So, you have your fundraising idea locked down. Maybe you've drafted some fundraising letters to your community, but you're in search of new ways to spread the word.
Look no further! Flyers are a tried-and-true advertising method to get the community engaged with your event and organization. If you see them as an outdated outreach method, we have great news for you.
It's true that if you never update your tactics, your flyers will get stale and uninteresting. But, following these tips to refresh your fundraising flyers, you'll drive interest in your organization and attract new supporters from far and wide.
Here are the top 8 most important tips to ensure your flyers are convincing, informative, and attractive enough to exceed your fundraising goals.
Ready to transform your fundraising flyers forever? Let's jump right in!
Fundraising Flyer Fundamentals
Before you start designing new fundraising flyers, let's lay the groundwork for what you need to know before designing your new fundraising flyer. You should never go in blind when making content for your organization or event. Always think about your branding, goals, and target audience ahead of the actual creative procedure. Here are some questions that you should consider before embarking on your redesigning journey.
How will fundraising flyers benefit your organization?
The simple answer is all fundraising planners! No matter if you're representing a school, church, nonprofit, or other public-facing organization, flyers are a simple, yet smart way to spread the word about your activities. How do you turn a piece of paper into a marketing machine? Strategize ahead of time to maximize your reach. As long as you employ these strategies, any organization can benefit from adding fundraising flyers to its marketing arsenal.
What information should be included in a fundraising flyer?
The central purpose of your fundraising flyers is to inform your viewers. Make sure you include all of the relevant information that your viewers need to know. Be clear and concise about this key information to reduce confusion. This will make your audience more likely to attend the event. Here are some of the critical details you should include on your fundraising flyer:
Location and time the event will take place
How you'll be raising money
How the proceeds will be used
The host organization of the event
How to contact your organization
What to bring or expect at the event
Age restrictions (if applicable)
RSVP date (if applicable)
That's a lot of information to fit on a pocket-sized piece of paper! Don't worry, we've got you covered. This blog will ensure you know how to intelligently incorporate all necessary information without crowding your flyer. The important thing is to cover your bases so your reader knows what to expect from your event.
How should I format my fundraising flyer?
In the digital age, paper resources are becoming increasingly obsolete over time. So, you might be skeptical about investing time and money into a physical flyer campaign. Luckily, you can tailor your fundraising flyers to a variety of mediums and styles. Depending on your audience, you should determine which medium will reach the most eyes. For example, if your audience is older donors who don't use social media, perhaps focus your efforts on paper flyers.
Featuring your fundraising flyer on your website and social media platforms is incredibly effective for reaching a large audience base. Social media advertising is the new norm, so your organization should seriously consider using these platforms if you don't already.
However, if your target audience is older donors who don't use social media, perhaps focus your efforts on paper flyers. You can use the same digital design with slight alterations to easily integrate paper fliers into your flier campaign.
Now that you know how to brainstorm your flyer layout, let's explore some examples. Let's get inspired!
Informational fundraising flyer tips and examples
Now you know what details to include on your flyer, so it's time to put them into practice. In this section, we'll cover tips for structuring information about your fundraiser on your flyer so that your viewers are satisfied.
Tip 1: Highlight calls to action
The last thing you want your viewers to do is to painstakingly search for the main topic of your flyer. Hit them right away with a short and snappy call to action.
A call to action is a classic nonprofit advertising tactic that prompts an immediate response from your viewer, whether that's buying your product, donating to your nonprofit, or signing up for your event. They're very useful for catching your reader's attention and giving them an actionable objective that benefits your organization.
Let's take a look at a flyer that uses a call to action:
Notice how the phrase "Donate Now!" is front and center on the flyer. The positioning and size of the text immediately draw the viewer's focus to the call to action, planting the seed in their brain for taking action and helping your cause. Also, in the same block of text, there's a smaller tagline that precedes the main call to action. Including a specific tagline or catchphrase with your call to action helps your audience remember your organization in the long term. Brainstorm with your team to figure out which call to action style best fits your brand, goals, and target audience. You'll catch your viewer's attention and guide them to the main event.
Tip 2: Include a QR code
Remember all of the information that's important to include on your flyer from a few sections back? It's certainly a challenge your flyer designer has to face when creating your materials. A simple fix for this dilemma is to embed a QR code into your flyer. Smartphones have the capability to read a QR code and redirect you to the URL connected to it, which helps reduce text on your flyer and streamline your reading time.
This flyer displays the utility of QR codes on advertising materials. The QR code leads directly to the fundraising ticketing page so your viewer doesn't get confused and can quickly participate. It doesn't stop at ticketing pages, though — you can input a wide variety of site data in your QR code. For example, instead of taking up space with your organization's contact information, you can link your website's contact page to the QR code.
Here's how to create your own QR code:
Determine which site you'd like to link to
Use a free QR code generator online
Download the image and paste it into your flyer
It's really that easy! QR codes are simple, versatile, and will transform your flyer for the better.
Tip 3: Make it mobile-friendly
If you've been paying attention, you'll notice a trend amongst these tips: the importance of tech- and mobile-friendliness.Nearly 70% of all search engine users are browsing on mobile devices, and that number increases every day. So, your organization should take advantage of that valuable real estate by making your fundraising flyers accessible on mobile devices. Take a look at this example of a fundraising flyer across several mediums.
Mobile browsing is the new normal, so your organization should update your digital fundraising flyer layout accordingly.
Unsure how to make your fundraising flyer mobile-friendly? Fortunately, there are many services at your disposal to help you create a stunning mobile flyer. Graphic design agencies like Kwala, specialize in creating designs for nonprofit organizations. They offer premier services to help you stand out. Here are some other tools you can use to convert your flyer to a mobile format:
Canva
Pexels
Adobe Express
Pixlr
Vistacreate
These platforms are only a handful of services out there that can accommodate a variety of needs for your nonprofit. If your nonprofit needs advice on your graphic design strategy, here's a great place to start.
Aesthetic fundraising flyer tips
It's time to bust out the color wheels and shape templates!  Let's work through aesthetic tips to make your flyer more eye-catching.
Tip 4: Use a minimalist design
If you aren't an art aficionado, this one's for you! You don't have to be an expert in design to make an attractive flyer because the minimalist style is your best friend.
The crux of minimalist design is converting seemingly simple design elements, such as lines, shapes, and colors, into an artistic and attractive product. You can use minimalist elements while stylizing your fundraising flyer. Take a look at this example of minimalist design: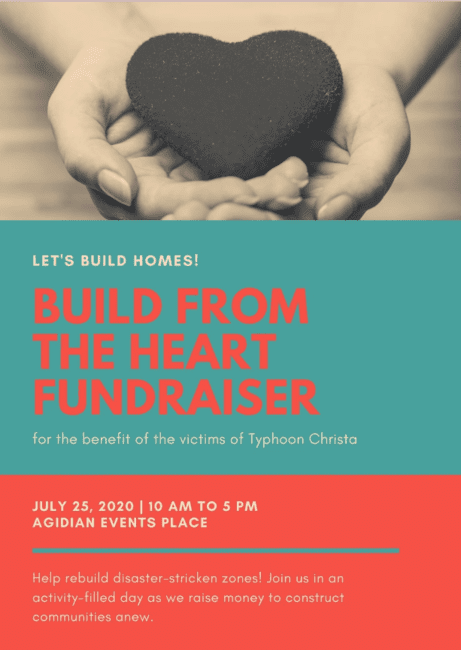 Note how there aren't many fancy graphics or art styles, but the design is still appealing and draws your eyes across the page. It isn't boring despite not having complex images. Be sure to try this style out to ease into the flyer design space. Chances are, you can DIY your first flyer with a minimalist design!
Tip 5: Feature relevant images
First things first: don't just use text on your flier. Images lend more evocative value to your content and allow you to better articulate brand messaging. For example, if your organization is fundraising to end world hunger, relevant images could include recipients of your aid, food that you sent, and volunteers on site serving food. Your graphic design choices can also convey your organization's feel to a new viewer. Let's check out an example of strategic imagery:
The image used in this flyer catches the audience's attention by being the only photo on the page. Plus, it's a burrito, which is a recognizable symbol of Chipotle's brand.
Is anyone feeling hungry after looking at this flyer? That's not an accident. The advertiser did a great job of featuring one of their most famous products and employing brand association for viewers.
You don't have to be a professional marketer to successfully embed images into your flyer! Work with your team to figure out which images strike a chord with your audience and leverage their emotions to bring more supporters to your cause.
Tip 6: Use different fonts
If you've ever played around on Microsoft Word, you know how many fonts are available for you to use. In fact, it can seem utterly overwhelming trying to pick a font to use for your fundraising flyer. But, this tip will ease your woes and give you a visually stimulating flyer.
You don't have to stick to just one font while making your fundraising flyer. On the contrary, using various fonts can bring your image to life and emphasize the most important aspects of your flyer. Here's a fundraising flyer that uses numerous fonts: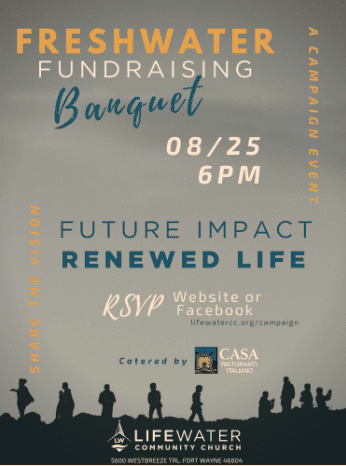 The fonts in this example aren't overwhelming the image because they subtly add an extra flair to the page. Spicing up your font selection is a simple, yet important tactic to hold your viewer's interest. Plus, you can use different fonts to convey distinct moods. Your font choices might vary if you're hosting a black-tie gala versus a casual lemonade stand. There are many fonts to choose from, so you're sure to find one that matches your event and brand.
Tip 7: Test out distinct shapes
Everyone's familiar with the traditional rectangular flyer that you can hang on a wall or put in a mailbox. But, there are so many ways to break the mold and spruce up your fundraising flyer. One way to set yourself apart is by incorporating a new shape for your fundraising flyer. We're all used to 8×11" pieces of paper, but what if you make your flyer a cupcake for a bake sale? A shoe, for a shoe drive? You'll automatically make your flyer memorable, and your reader is more likely to further investigate your event. Check out this uniquely shaped flyer:
Using a pamphlet as your flyer shape allows for more information and images to make it on the page. Flyers don't usually come in a pamphlet form, so it'll likely pique your audience's interest and prompt them to read your content.
Don't be afraid to think outside the box with your flyer. As long as your information is legible, you can let your imagination run wild!
Tip 8: Create unique designs
Finally, let's discuss one of the most crucial parts of your flyer: your specific design. This is especially relevant to widespread fundraisers such as bake sales and talent shows. You shouldn't use the same old image that all the other fundraisers like yours are using, or else nobody will be able to distinguish your cause from the others. So, it's time to get your creative juices flowing to make an impression on your viewers! Here's a sample fundraising flyer with a great design:
This flyer is a piece of art! The design complements the theme of the fundraiser while departing from normal bake sale imagery. Do your organization a favor and bring your own creative touch to your flyer. Your audience will be overjoyed to see your fresh take!
The Bottom Line
Your fundraisers largely contribute to your nonprofit's success. You should use everything in your power to make your event as memorable and profitable as you can. The fundraising flyer is a classic outreach method, and adding new twists to your tactics will keep your community interested in your organization. If you strategize and use some of these tips, your nonprofit will see new faces and more open wallets for years to come!
Additional Resources
To learn more about all things nonprofit, check out the rest of the Top Nonprofits Blog
To learn how your nonprofit can leverage graphic design, take a look at this article.