Idea Problem or Execution One?
August 22, 2022     
Kevin Schulman, Founder, DonorVoice and DVCanvass
There are two parts to innovation, idea generation and delivering on those ideas.
Academics at the London School of Economics (James and Kotak) and Oxford (Tsomocos) built a macroeconomic model to understand productivity growth as a function of idea generation and our collective ability to deliver on them.
They used a sample of NYSE companies listed from 1850 to 2019 and identify three innovation regimes:
PreWar, 1850-1941
Peak, 1946/69
Post 80, 1980/2019
Innovation growth is constant in the PreWar period despite a huge, positive spike in idea generation courtesy of the Second Industrial Revolution between 1870 and 1900.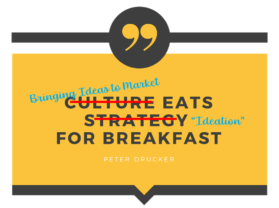 Financial market reforms of the 30s/40s lead to increased market effectiveness and let companies deliver on their idea glut for the Peak period.  For example, prior to 1933 there was no uniform system of financial accounting or disclosures for firms trying to go public or those already trading publicly.
That same market efficiency has lessened over the last 5 decades producing the Post 80 period with no increase in innovation growth (Note: this isn't same as saying "no innovation" or no growth from innovation, just no increase in the rate at which innovation contributes to productivity and growth).
Houston, we have a problem but new ideas ain't it.
How many innovation sessions at charities focus on idea generation?
How many put disproportionate time and fervor on selecting among those ideas and getting one in market?
Kevin