October 17, 2022     
Charlie Hulme, U.K. Managing Director, DonorVoice
Join us for the should I sustain or should I go now learning session.
The first sign a supporter is leaving is they've left. Doesn't make life easy for anyone managing acquisition campaigns.
Sure, there will be proxy factors in place for quality – e.g., age, payment amount.  But at least one of those  (hint: it's payment amount) isn't linear with retention.  There is no free lunch with monthly amount.  And yet we've seen many a compensation and payment model that assumes it's linear.  You know what's worse than paying a lot more upfront for a $35 a month donor?  Paying for a $35 month donor who quits at a high rate.
Regardless, these proxies are always incomplete.  It's like trying to evaluate the quality of a cake at the raw ingredients stage and only having half the ingredients you need.
This means you can't accurately predict who is staying or going.  And certainly not why   Which leads to our not knowing what we can do to fix the problem.
Well, now we can. The following is just a sneak peek into a few views you'll see if you join our webinar.
Think about your current acquisition reporting. Now take a look at this dashboard from DonorVoice's Acquisition Platform, and imagine these are your figures.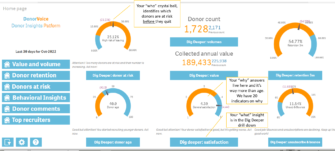 The first thing to notice is this is real-time reporting of your live campaigns. This applies across channels and compares channels. In this anonymized example we're looking at the last 30 days of face-face acquisition. In the middle of the screen, you see the count and how it compares with the previous 30 days. And just beneath you see the same for annual value.
But, here's the game changer. Look at the dial in the top left of the dashboard. Here you're looking, again in real-time, at the number of supporters you just recruited who are at high risk of leaving. You also see the number at-risk  has increased, from 23% to 25%.  We call this the TrueQuality Score.
You now have a meaningful, forward looking measure of quality. And now that it's measured properly, you can manage it.
So, back to imagining your campaign. You now have a dashboard in front of you showing you who is leaving.  What about the why?
Well, let's look at the dials along the bottom. These give us a real-time snapshot of some of the measures going into the Quality score.  The average donor age and sign-up satisfaction have dropped while unsubscribes have gone up.
These 'why' measures give us specific guidance as to what actions we can take immediately by clicking the 'Dig Deeper' button.  Let's click unsubscribe and bounce. I can see which agencies, which campaigns, and (in the image below) which fundraisers have the best and worst performance.
The red dots represent individual fundraisers by their volume in the last 30 days. The blue bars show their corresponding unsubscribe and bounce rates.

Now I can go to my in-house campaign manager or external agency with clear-cut direction. Bounce/unsubscribe is a bigger problem for some than others.  This is trainable and fixable.
Of course, this is just one of many variables that go into the TrueQuality Score. But for each, you get similar insights and actions.
Join us for Should I sustain or should I go now.
Charlie