Join in Please consider joining us for the Should I sustain or should I go now learning session.
If you think donor experience matters to sustainer retention then the vague term needs to be broken down into specifics and we need to get more precise.
Here's an example, a telefundraising campaign to convert digital leads to sustainer.
Mental exercise:  Name two parts of the call experience that have a statistically significant impact on sustainer attrition in the first 90 days.
Did your list include ask amount?  And does retention go up or down as the ask amount goes up?
Ask amount matters, a lot.  But, it's often non-linear and counter-intuitive.
In some cases retention goes up as ask amount goes up.  But why?  Ask amount typically goes down during the call (or F2F pitch) if the supporter initially says "no" or is reluctant.  Those who say "yes" upfront may be signaling greater connection to the cause.
And what about all that extra asking with lower amounts after getting one, two or even three "no's"?  It can feel very pressurizing and the Agreeable person may say "yes" to avoid that feeling, end the interaction and quit later.  This creates a large pool of lower price point donors with high churn.
And if you have incentives for fundraisers that increase as signup amount increases then be prepared for high attrition at higher ask amounts.
Regardless of ask amount, repeat asks or pressurized asks tied to high amounts can undermine feelings of autonomy and control.   As autonomy goes down, retention goes down.   But what we do we do about this?  If it's just a measuring stick and no action plan then it's not worth measuring.
The chart tracks supporter feelings of autonomy after a TM sustainer conversion call broken out by those whose final disposition was "yes" to the sustainer ask (in green) and those who ended the call with a "no" (blue line).
[Join the learning session to learn exactly how we measure Autonomy and Competence and Relatedness]
Two macro takeaways.
Feelings of autonomy impact conversion – blue line is lower than the green line.  This is cause and effect.  I felt like the fundraiser was undermining my sense of control and my reactance kicked in,  causing me to say 'no' even if I like the cause and charity.  Regaining my sense of control trumps all.
Something changed the green (and less so, blue) trend line and it was a positive change.
Let's dig in on pt. 2.  It wasn't random.  It was an intervention with the agency on the part of the charity (with our guidance) to stop the negative downward trend of supporter autonomy.  As it turns out, the agency had a new manager whose ethos was akin to Glengarry Glen Ross, always-be-closing.
That hurts conversion and retention.  But, we were able to make relatively minor re-training adjustments (down to fundraiser level which is the next level down we have for this data) to increase supporter feelings of autonomy that increased conversion and retention.  Cause meet effect.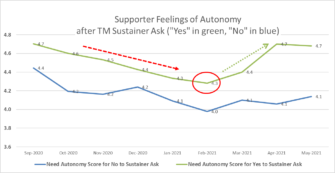 It's cliche but true, what gets measured gets managed but too much of what matters doesn't get measured at all and too much of what gets measured is done because it's simple, easy and the way things have always been done but with no business improvement purpose.
Kevin
P.S. Please do consider joining the sustainer learning session, registration is free.