Does Your Giving Cup Spilleth Over?
November 9, 2022     
Kevin Schulman, Founder, DonorVoice and DVCanvass
If my first giving experience was good, will I be more or less likely to give the 2nd time?  This needn't be rhetorical as obvious as the answer may seem.  We routinely measure satisfaction with the giving experience and see a strong, causal link in the direction you'd expect – good is good, bad is bad.
Spillover refers to the behavioral impact of giving at Time A and it's likelihood of giving again at Time B.  There can be positive and negative spillover, increasing and decreasing the chances respectively.
There's a rather large, natural field experiment playing out across every charity, every day arguing for negative spillover being a big problem.  It's called 2nd gift conversion.  The vast majority of "donors" don't give after the first donation.
Negative spillover is the portion of the 2nd gift conversion chasm that's entirely under your control and starts with the psychological feelings you created with the first giving experience.
Was the initial solicitation guilt inducing?  If so, your cup will spilleth over with negative spillover.
What about a behavioral science nudge versus a premium as a tactic in the first solicitation?  Which one creates more negative spillover?  To answer this we need an experiment pitting them head to head but we also need to know why, which requires a more involved test.
Everyone got two asks, 1st gift and a 2nd gift conversion ask.
There were different treatments in the first gift ask.
Baseline or Control.  Nothing specific done to influence the 1st or 2nd gift.  This is the Blue bar.
Nudge in 1st Ask.  The 1st ask contained a behavioral science nudge.  This is the Orange bar.
 Premium in 1st Ask.  The 1st ask included a premium.  This is the Gray bar.
The baseline (blue) establishes the point of comparison, namely the 1.5% 2nd gift conversion.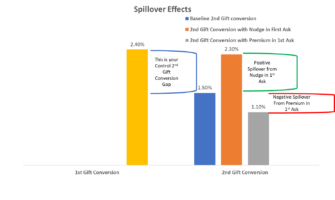 Why does this happen?  Knowing is key, that it happens isn't enough.  The reason is low quality motivation created by feeling an external pressure to give at the 1st Ask induced by the premium.  This was affirmed by survey questions measuring autonomy, competence and relatedness as part of the experiment.
External pressure (e.g. guilt, feeling like one "has to", avoiding feeling bad about oneself if I don't give) creates low quality motivation and reduces the chance I'll give a second time.
The nudge not only eliminated negative spillover, it created positive spillover.  Your 2nd ask is helped or hurt by your first one.  Do you know which way your cup spilleth?  We can audit your appeal and tell you.
Kevin