I'm old enough to remember the world pre-internet, PI, and the first, niche Tandy personal computers.  The screens were microscopic, monotone.  You'd run some basic scripts on DOS prompts and that was about it.
Early internet was terminally slow but we didn't know any better.  You can still hear the whirring, dinging and high pitched screeching of that uber-recognizable connecting to through dial-up internet.
The scope and speed of the advances are beyond my comprehension.  That's how I'd describe this seismic breakthrough with ChatGPT.  If you don't know what that is then either you or I live under a very weird rock.  It's cousin is Dall-E, which is equally seismic.
It's almost as if the internet was the pre-condition, the means to an end and a new beginning and that new beginning has dawned.
ChatGPT is really a front-end app built on top of the language model, GPT-3.  GPT-3 is built on the internet as it's data set.  The model used the internet to understand language, all the linkages between words, syntax, parts of speech, sentiment, context and on and on…
The model has 175 billion parameters.  Think of a parameter as a mathematical relationship between two things.  For instance, height predicts weight.  For every 1 inch change in height, there is corresponding, expected change in weight.
That's one parameter.
This model has a 175 billion of those…It is light years beyond human capacity to even process what that means.  And it will grow exponentially.  Rumors swirling around GPT-4 put it at 100 Trillion parameters, 500x bigger, and it's expected isn't  the year 3000 but 2023.   Staggering.
If you haven't played around with ChatGPT and Dall-E you should.  For fun.  It's wildly creative, writing a really entertaining, funny poem about a grilled cheese sandwich getting stuck in a VCR in a tone and style to match the King James Bible.  Real example.  It can be entertaining and funny because the internet has the entire Bible along with lots of place for the machine to "learn" about humor, grilled cheese sandwiches and VCRs.
But, you should also spend a lot of time experimenting on how to incorporate it into how you work.  It can write copy for you.  Your prompts matter and even if it's only a first draft, it's often one worth using for time savings alone.  We've given it very explicit, highly detailed prompts to,
Write a fundraising letter for a local food bank
Using a Moral Frame of Loyalty where the in-group is the community
Start with a story that follows a redemptive arc
make it appeal to someone high in trait Conscientiousness
Use simple words, remove as many prepositions as possible, drop adjectives and adverbs, add in pronouns, etc.
And it does it.  Pretty damn well and instantly. If Alexa and Siri were the Tandy, Radio Shack, dial-up models then it is only reasonable to assume this version, as stunningly good as it seems, is still the early IBM PC releases of the early 80s, the super slow "higher" speed, not quite dial up.  The non-HD, non 4k, color television.
And the innovation curve is massively steep, exponential.
The image creation on Dall-E is nothing short of amazing.  Mind blowing.  These aren't real photos it found on Google images.  It made these based on user prompts and direction.  It did it almost instantly.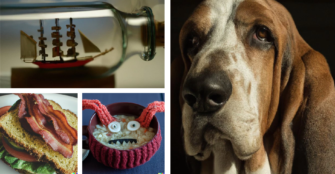 Want tagline ideas or subject line ideas?  You'll not find a faster route with at least a few ideas you'll like.
Want to know what you should do if your job or product is at risk of becoming obsolete to AI?  Ask it.  I got solid answers on how to reinvent Copy Optimizer – our writing aid product – that I'd have paid an outside advisor for.  Free and within seconds.
We're already using this free AI almost daily in our company and usage will only grow.  For now, it's a tool, a productivity booster, an idea generator and a way to instantly bring insanely creative ideas to visual life.  The future is not even one I can fathom.
I'm not prone to hyperbole.  This changes everything, again.
Kevin