I Think, Maybe
December 14, 2022     
Kevin Schulman, Founder, DonorVoice and DVCanvass
Conversational hedges are words or phrases indicating uncertainty, tentativeness, or modesty in a conversation.  Words like "maybe," "I think," or "I'm not sure".
What role do they play?  They can make the speaker appear more credible and trustworthy by acknowledging uncertainty.
Hedges can also make the speaker seem less pushy, which in turn makes the listener more receptive to the speaker's arguments.  And they can make the speaker's arguments more compelling. By presenting ideas tentatively, the speaker invites the listener to consider the merits of the argument and arrive at their own conclusions.
This can make the listener feel more invested in the conversation and more likely to be persuaded.
But, are all hedges the same?  Recent research from Berger and Oba at Wharton suggest not.  They hypothesized two dimensions of hedges that impact persuasiveness,
Qualitative Degree of Likelihood Suggested – e.g., I believe suggests higher likelihood than I feel like.
Pronouns and Personalization – e.g., Do you own it with first person "I, Me" or not?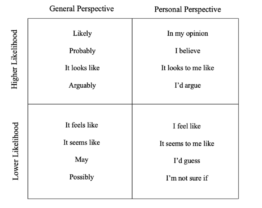 They tested this in a variety of experiments and found that Owning it with first-person pronouns and making it seem more likely make it more persuasive to the reader or listener.   Persuasion increases as,
Degree of Expressed Likelihood goes up (X axis and up and to right plot of dots)
Use 1st person to own it (solid dots higher than the triangles)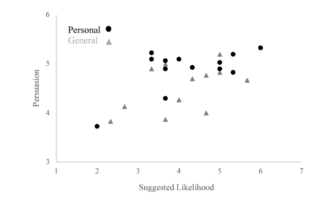 This is magnified if the speaker is deemed an expert or relevant on the topic, which is kinda the definition of who ought to be "writing", errr, signing our appeals.
The reader assumes (usually incorrectly) the signer wrote the letter.  Our job is to make it feel that way.  One way to do this is by making sure the signer comes across as persuasive and compelling by using first person and sharing beliefs and opinions.
The double bonus is "think", "feel", "want" are private verbs that make the copy feel more like a personal exchange and help your Readability Score (per Copy Optimizer).
Kevin