Otis and Katrina have done it again!  I'm speaking of fundraisers/authors Katrina VanHuss and Otis Fulton. Their just-released  Social Fundraising: Mining the New Peer-to-Peer Landscape —  a must-read encore to Dollar Dash, their breakthrough guide to tapping the true potential of Peer-to-Peer fundraising.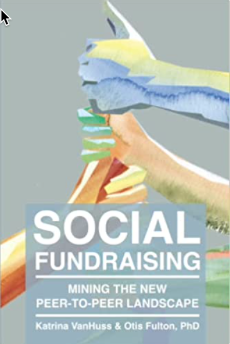 The potential of Peer-to-Peer fundraising (let's call it P2P for brevity's sake although if you want to be correct with a label it should be "social fundraising")  has grown exponentially greater in the six years since their first book.  Why? Perhaps because of the marked deterioration of trust in institutions but mainly because of the growth in social media. Today, with 71% of donors reporting they're likely to learn about new causes from family or friends it's a channel you shouldn't ignore.
One of P2P's most valuable attributes is its potential as a donor acquisition resource. I note this given the compelling fact four out of five donors to P2P campaigns are new to the organization sponsoring the event.  And, like most acquisition efforts, the funds raised thru P2P efforts are usually unrestricted.
Don't think for a moment that what you learned about P2P ten or even five years ago is old news.  Wrong.  There's a whole new world of techniques backed by data-based evidence plus a whole pandemic-era's worth of findings you should become acquainted with.
AND….  fresh off the presses,  Social Fundraising is just what you need as your guide in tapping detailed case histories coupled with the latest findings of behavioral science to provide you with powerful, fresh insights you can put to work immediately.
Or maybe you're not ready to put P2P to work immediately.  Maybe you've been thinking about it or someone on the board is asking that universal pain in the butt question, "Why aren't we doing this?"  What Katrina and Otis offer in their new book is a through and thoughtful exploration of the pros and cons of launching a P2P or social fundraising effort.  Critical questions you need to ask and answer. Like:
How does social fundraising fit with the rest of our revenue sources?
How can I get my organization to see its value as an acquisition source?
What kind of event will work best for our organization?
Does it have to be an in-person event, or can we do this online?
Where do we get the volunteers? And how do we manage them?
Frankly, when it comes to social fundraising –just like all fundraising—there are more questions than PowerPoints at an AFP convention.  And just as frankly Social Fundraising: Mining the New Peer-to-Peer Landscape asks and answers an encyclopedia's worth of questions with thoughtful, direct answers amply illustrated by real-life examples.
One of the reasons I'm a huge fan of Katrina's and Otis' work is they practice their craft with road-tested approaches to donor motivation, donor recognition and donor incentives –exposing both the good and the bad— and buttress their recommendations with the behavioral science principles that undergird them.
In fact, even if you're not the least bit interested in P2P/Social Fundraising this book belongs –well-read and dog-eared—in your library because there are few books in the field that offer as many insights into donor relationships and motivation as this one.
Here are a few P2P/Social Fundraising facts from their book worth noting and considering:
As recently as 1990 social fundraising was embraced by only a few organizations. Today, it's a tool utilized by more than 1/3 of all nonprofits worldwide, in 2021 the top 30- social fundraising programs in the US raised $922 million.
Donors acquired from social media make gifts similar in size to contributions from those donors who gave to the organization through direct response or other channels.
On average, according to Blackbaud,  you need 286 email solicitations to gain one donation.  You need 100 direct mail letters to gain between 4 and 6 donations. When it comes to P2P/Social Fundraising you need 7 email solicitations to get a donation for a Cycling Event; 4 emails for an Endurance Event and 6 emails for a donation to a Walk.
My point is not to single out any one set of facts but to give you a taste of the gems in this fact-packed book all backed by explanations and illustrations of what sorts of donor experiences create these results.
Here at the Agitator we dwell a lot on the importance of the donor experience.  Few books shed as much light on how to create donor experiences.  As the authors note, "Your focus should be on creating for a participant experience that brings your mission to them. The mission is your hook."  BUT…that's just one element.  They go on, " However, how it touched me will  cause me to give, ask, and return.  You won't reach everyone. But you must design experiences to potentially reach everyone.  Life is about memories.  Memories come from the thing you experience."
With Katrina's 30+ years' experience organizing Social Fundraising events, and Otis' long experience as a psychologist and practitioner in consumer/donor behavior Social Fundraising: Mining the New Peer-to-Peer Landscape is must have, must read, must use.
PLUS…as I noted in reviewing their earlier book Dollar Dash this latest is also one hell of a fun read.
Roger