I've got, like everyone, a habitual, auto-pilot process for managing all the mail I receive. And since I, like many a reader, am on a million and one seed lists and donate to charities I receive a #$@% ton of charity mail.
Plus, my family has what seems a daily supply of last-mile delivery from online, consumer purchases.  That means more mail.
How people mentally and physically process, sort and manage mail is not titillating cocktail party conversation but it's pretty damn mission critical for us.
One thing's clear, processing one's mail is a behavioral rut like brushing one's teeth.  We don't reinvent it each day, we look for repetition to breed efficiency and remove cognitive load.  That rut is good if it breeds repeat giving and bad if breeding trash binning.
Breaking the rut requires understanding it.  Here's what we know from research.
There are four mental strategies for dealing with direct mail.  I say "dealing with" because this ain't exactly anybody's top priority nor an intensive, high engagement, look forward to it category.
Low Attention Strategy.  These folks devote relatively little mental energy to the task.  They don't read the letter all the way nor the inserts.  This strategy is especially used by the relatively affluent, with more formal education and prestigious occupations.
Two immediate ideas here:
Go with the flow.  Skip all the inserts and extra printed materials for these folks.  Spend less, match their behavior.
Break the rut.  Try a very different approach to attract their attention.
  Protect myself strategy.   Everyone can believe a person will avert eye contact or cross the street to avoid a street canvasser.  Same for the phone, hang up instantly or not answer in the first place.   The equivalent happens with mail.   These people write down when they last gave to the charity so they don't give again too soon.
I get it, this one hurts a bit but it's real and it's prevalent, especially in those households receiving a lot of direct mail – i.e. the person who gave to charities in different sectors and now has their name sold six ways from Sunday.
Sector giver Strategy.  These folks manage all the mail by deciding to only give to certain types of charities – e.g. local vs. national vs international.  This strategy is also highly correlated with the amount of mail the person gets – the more they get, the more they deploy this strategy to deal with it.
Rule of Thumb Strategy.  This is similar to the sector giver, they've got a short list and if you ain't on it, you ain't on it.
Those are the mental strategies.  These are the behavioral "scripts" broken out by charity mail vs. catalog and within each, frequent and infrequent donors/buyers.   The number is the percentage doing each behavioral script.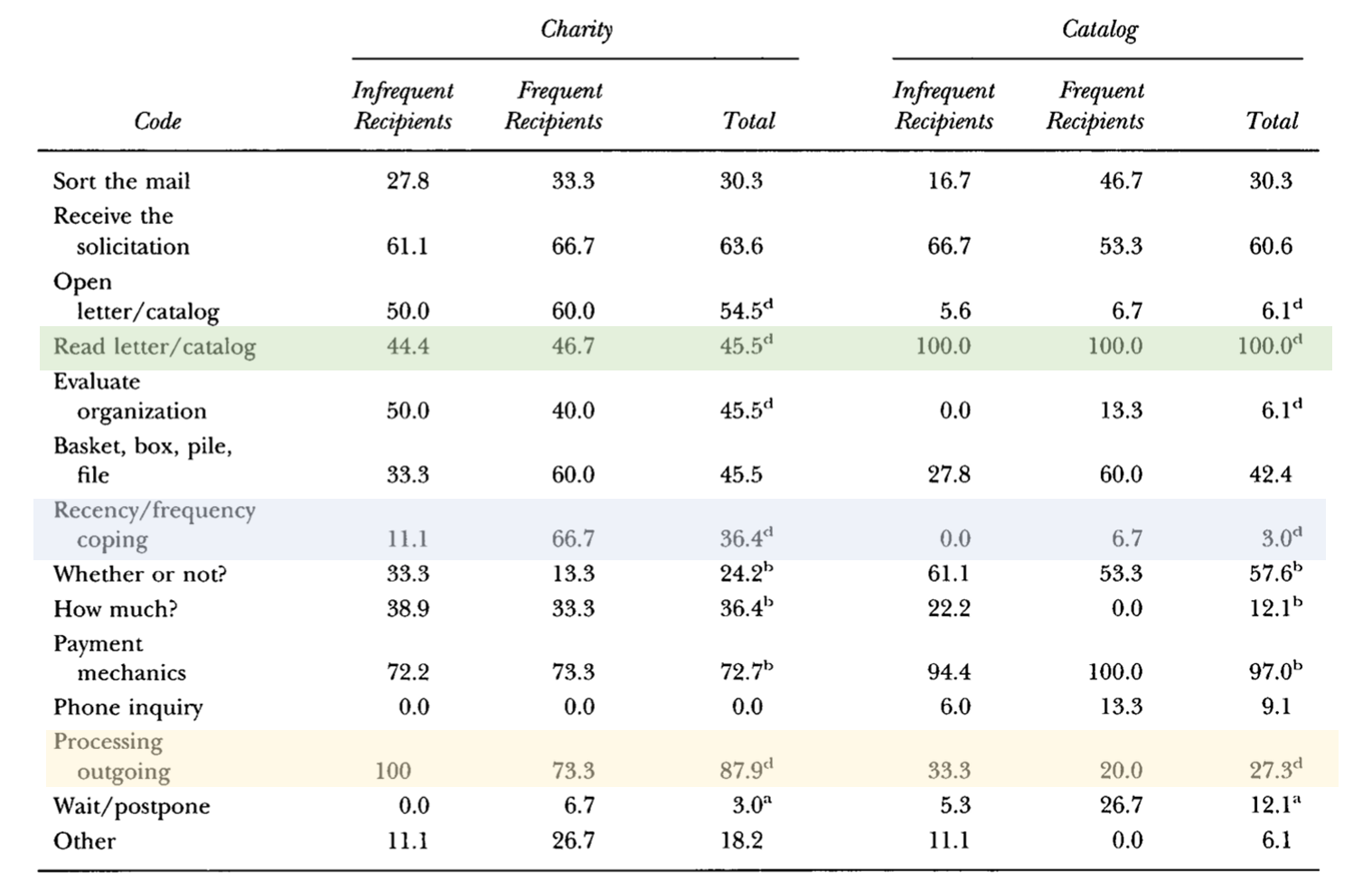 Look at readership, in green.  Only 45% are reading the charity mail compared to 100% for catalog.  The latter doesn't require effort to get to the "good" parts.  Many charities have catalogs, this explains part of their value.  How else can you ditch the envelope?
The blue behavioral script is those checking when they last gave to Charity X or only give once a year to Charity X.  We call this "mode of 1" and it's a huge segment on your file, those giving habitually 1x per year. You can solicit them 12, 24, 48 times a year and you'll either keep getting 1x/yr or irritate them and go to zero.  Auto-renew is a great gift to them and you.
The yellow includes the replying process – writing check, filling out reply/order form, putting it in envelope, finding stamp, mailing and finally, disposing of the rest of the mailer/catalog.  I'm struck at the delta between charity mail and catalog.  The activation method for catalog used to be close to 100% paper but clearly far less so now.
Why is charity mail still so high by comparison?  One can't assume it's a negative and barrier.  It's conceivable that habit and pattern is a plus.  Equally conceivable it is a a barrier.
Thought experiment.  What if the reply option for direct mail excluded check writing?  Instead there is a phone, QR code and text option, each with rationale, explanation, etc.   Why train or condition them on a paper method that will continue its inevitable downward usage trend?
Better yet, aim this thinking and approach at the people you mail over and over in acquisition with zero in return.  There are a lot of names in this category.
A lot of fundraising challenges aren't individual failures, they're collective and structural.  Understanding how people think about and behaviorally process this expensive and huge but dwindling return category is a structural challenge.
Zagging with the zaggers won't cut it.  Heck, it may take something more than a zig.
The no-paper check allowed mailer or maybe a mailer used for lead generation?  This is common in insurance and financial service categories as they know the lifetime value of a lead and initial activation as a lead is always easier than initial activation as a donor/buyer.
Kevin