It's Presidents Day here in the U.S. Ostensibly created to honor all who've served as U.S. Presidents (once it was celebrated as George Washington's Birthday but now it's inclusive of all), judging from tv spots and social media ads it's morphed into a consumer festival dedicated to discounting mattresses, refrigerators, cars and just about anything you can slap a Presidents Day Sale sign on.
Since this holiday happens to coincide with the recent release of a report from Open Secrets on political contributions for the 2022 mid-term House and Senate campaigns I wondered how well the "Congress for Sale" festival went last year.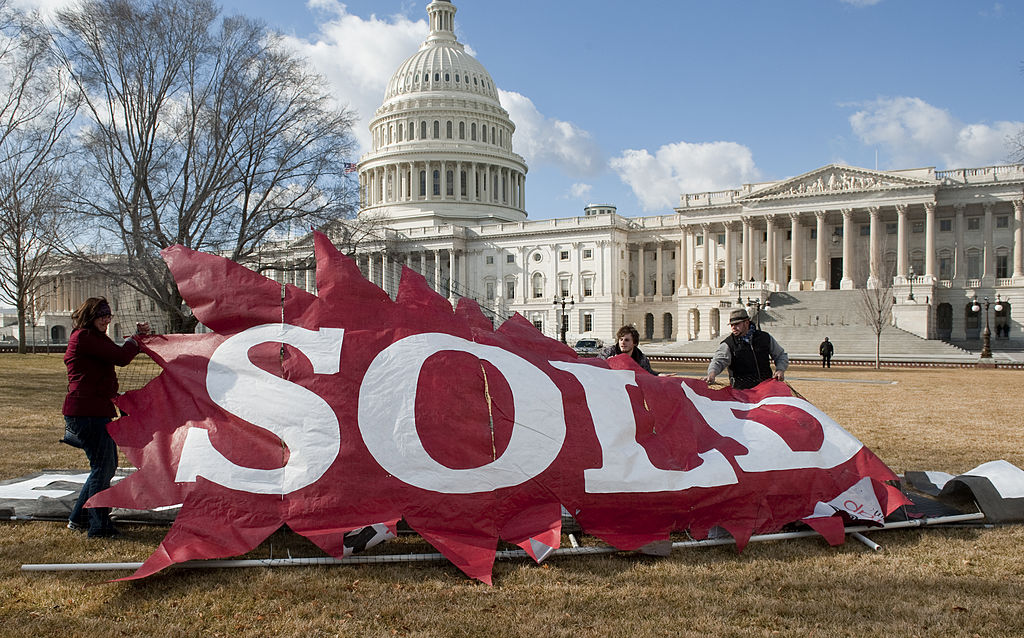 Quite well, thank you.  According to Open Secrets,  business interests spent $3.5 billion in federal political contributions.     That's up from $3.3 billion for the 2018 mid-terms.
The Open Secrets report is both fascinating and illuminating and should be required reading for every democracy-loving American. For those fearing that hypocrisy among American corporations is endangered I'll single out this one paragraph regarding the January 6th, 2021, Insurrection:
"Corporate PACs and industry trade groups have steered more than $66 million to election objectors since Jan. 6, 2021, OpenSecrets previously reported. While numerous corporations pledged to stop or reevaluate PAC giving to Congress' so-called "Sedition Caucus," several companies including AT&T, Boeing, Cigna, Comcast, General Motors, Home Depot, Lockheed Martin, Marathon Petroleum, Pfizer, Raytheon, UPS, UnitedHealth, Verizon and Walmart resumed corporate PAC contributions to election objectors."
As Grandma Craver, with her particular despise for most television preachers, kept reminding me: "Everyone who talks about heaven ain't goin' there."
Pay Attention to Corporate Political Giving in the States
Nearly a year ago in an Agitator post titled Hidden Threats to Democracy we opined that it's wise –and certainly not crying wolf—to be on the alert to the seemingly small and non-violent acts in our democracy that represent dangers—stealthy but real—to our democracy.
" Don't think for a moment 'it can't happen here'" we warned, while also noting sometimes these insidious threats ooze out from the seemingly most benign and even venerated sources. Like good ole "Ma Bell"—American's venerated  telecom and media giant, AT&T.
AT&T publicly claims to be an ardent supporter of voting rights. AT&T posted a four-minute video on its corporate website, "AT&T Employees Honor Those Who Fought for the Right to Vote," documenting a trip to Selma, Alabama, to honor John Lewis and others that fought for voting rights.
But  from 2018 to 2021, AT&T donated at least $574,500 to the politicians behind Texas' voter suppression legislation. Over the same time period, AT&T donated at least $99,700 to the Georgia politicians behind that state's new law to restrict voting. In 2021, AT&T donated $150,000 to the Republican State Leadership Committee, which is pushing legislation in numerous states to restrict voting.
Unfortunately, updating examples like this to 2023 is as simple as it is shocking.  Here's the most recent  example of some of the hidden dangers to democracy, rights and freedoms that should put you on alert—as a consumer, as a seeker of corporate contributions, as an investor, and as a citizen.
Wake Up to So-Called 'Woke' Corporations
Those Republicans claiming that Corporate America has gone "woke" would be "surprised"(not!) to learn that major corporations are spending hundreds of thousands of dollars backing the politicians bolstering the effort to ban abortion medication.
One of the highest-stakes `legal battles over abortion rights right now isn't happening in front of the U.S. Supreme Court — it will be decided, at least in the short term, by one Trump-appointed federal judge in Amarillo, Texas.
The brief filed by the Attorney General of Mississippi and signed by 21 other Republican state attorneys general supports the plaintiff's effort to ban mifepristone, a drug used to induce abortions.
Of course, this  isn't about Mississippi because Mississippi — and many of the other states that signed onto the brief — have already made virtually all abortions, whether by medication or surgery, illegal. The lawsuit is about prohibiting the use of mifepristone in the 31 states where abortion remains mostly legal.
All 21 Attorneys General are members of the Republican Attorneys General Association (RAGA), a key group devoted to electing Republican Attorneys General and keeping them in office.
RAGA, in turn, collects millions to support its efforts from major corporations.
Among the major corporate supporters are several who have positioned themselves as champions of reproductive rights, pledging to pay for their employees' abortion-related travel after Roe was overturned. That group includes Comcast (316K), AT&T (125K), T-Mobile (100K), Uber (50K), Mastercard (25K), and Bank of America (25K).
As consumers, investors, and citizens we'd all do well to remember the wisdom of Grandma Craver.
Roger
P.S.  Remember Harry Truman's advice for life in Washington, D.C.: "If you want a friend, get a dog." A very strained Presidents Day transition to a reminder of Wednesday's webinar on acquiring –and retaining–Sustainers from Dog (and Cat) Adopters.  Registration is Free.