Few people pay attention to publishers in the fundraising field.
Probably because it's human nature to take for granted that which deserves our genuine gratitude because we assume it will always be there.  You know, things like water (until wells and rivers run dry) or food (until war, drought, floods, and poverty starve or kill millions).  And yes, even books (until they're burned, banned, simply go out of print and no one's left to publish new ones.)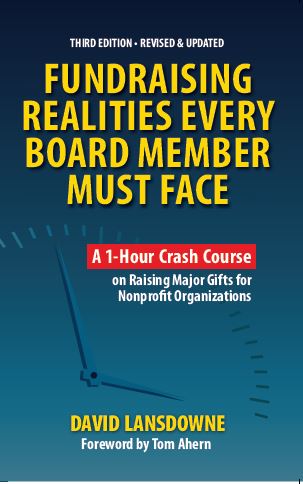 That why I'm rejoicing at the recent release of the 3rd Edition of David Landsdowne's Fundraising Realities Every Board Member Must Face:  A 1-Hour Crash Course on Raising Major Gifts for Nonprofit Organizations.
HOWEVER,…this post is NOT a review of a classic and essential work in the fundraising canon. (We'll do a separate review later).  Rather, like the brave little snowdrops now poking their heads above the wintry ground in our Massachusetts garden, and like Spring itself, this latest edition is a symbol of renewal.
How so?  Because the re-issue of Fundraising Realities marks the re-launching and continuation –the renewal– of the Emerson & Church publishing brand.  Even more importantly the new edition marks the maiden voyage of a venture in global nonprofit publishing.
Last year the Canadian publisher Jim Hilborn,  owner of Civil Sector Press International acquired the backlist of  the US-based Emerson & Church and the UK's White Lion Press to become  the English-speaking world's largest publisher focused on the international nonprofit sector, providing books on fundraising and nonprofit management by a wide range of the world's best and brightest sector leaders.

Why is this so important?
This is great news for all of us because it assures that much of the very best,  practical advice for fundraisers will remain in circulation and in many cases, updated, revised and reissued both in print and digital form.  (See partial list of Emerson & Church titles here…and White Lion Press here.)
I'm not alone in heralding this move.  As Tom Ahern, one of the most prolific and best-selling  of the Emerson & Church authors (Turning Doubters into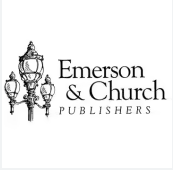 Donors, If Only You'd Known You Would Have Raised So Much More, What Your DonorsWant … and Why, Making Money with Donor Newsletters, and Keep Your Donors) told me:
 "Jim Hilborn basically saved nonprofit fundraising in North America.  These are fundamental books that simply need to be available.  In many ways our trade is so tenuous, so fragile. We face both high turnover of personnel, at the same time we face an industry that is exploding in size.  Fortunately, we have perhaps more educated people getting into it, but they're not educated in fundraising.
"The books of these three publishers represent the basics.  And given the growth and turnover in our industry maintaining and growing this repository of practical knowledge and know-how is essential.
"Further, there's a soul in our sector that many of these new folks aren't aware of.  And because a lot of people are now throwing themselves into this sector solving to solve social problems and create real change they need and deserve all the tools—and all the soul– we can give them."
Ken Burnett, who along with his talented partner the late Marie Burnett,  founded White Lion Press agrees.

And if you want a flavor –some of the soul – that goes into this kind of publishing and why Jim Hilborn's  offering a new lease on life for White Lion Press and its books is of such benefit to fundraisers you read it in Ken's own words right here.
For the past 15 years The Agitator has featured many  of the treasures from the collections of these three publishers whose authors and imprints have done far more than most folks realize to advance the causes we serve.    And going forward we'll pay renewed attention to both the classics and to new works as well.
Meanwhile, we'd be remiss in not expressing deep gratitude for the decades- long commitment of Jerry Cianciolo  Kathleen Brennan, founders and the driving engines of Emerson & Church and to Ken and Marie Burnett, the founders and pillars of White Lion Press.
And to Jim Hilborn and his team of editors and stable of authors at Civil Sector Press our profound thanks for what you've done and for your renewed commitment to do even more.
Thank you.
Roger