Grammarly is an online tool to help users improve their writing by correcting grammar, spelling, punctuation.  It uses reams of machine learning and natural language processing technology to analyze text and provide suggestions for improvements to improve tone or clarity.
It has done three rounds of private financing in amounts, $110 million in 2017, $90 million in 2019 and most recently, $200 million at the end of 2021.  That's $400 million dollars.  Their revenue is around $8 million.  The only way to raise that much money on hopes and aspirations and not dilute the earlier investors to damn near nothing is to make up an outlandish valuation, which is now $13 billion.
Outlandish, make-believe valuations are nothing new.  The Greater Fool Theory of finance says, go public and pass this massive revenue problem off on the retail and non-insider institutional investor class.
To be fair, I'm sure there is a lot of IP value tied up in Grammarly that isn't (hopefully) captured in the book value.  But that is a big delta between $8mil and $13 billion.   And I'd wager they have almost no path to net revenue but maybe that's passe.
But, the press release on this latest round has the CEO describing their IP and aspirations as follows, "The company will also continue to advance its natural language processing and machine learning tech to deliver personalized communication feedback to its users…Grammarly will move past simply focusing on conciseness, consistency and correctness. The company plans to add new categories in which to offer suggested improvements."
ChatGPT anyone?  Is it just me or does feedback to users and more categories for suggested improvements feel a lot like a VCR salesman telling me about a new and improved fast forward button?
Don't take my word for it.  Grammarly is running this promo, 50% off.  Yikes.   These SaaS based companies have always had what we fundraisers have, an acquisition and retention challenge.  Customer churn being the biggest with "freemium" helping create leads on the front end.  But if your at 8mil in revenue and your freemium to paid model upsell just took half the $ off the table what does that tell you about the disruption to their business model?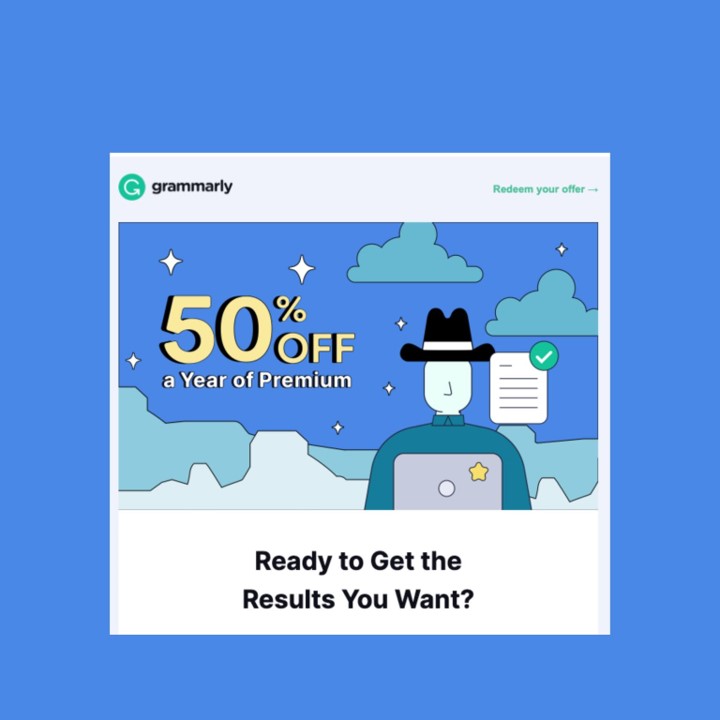 If something is to be written, the only winners will be those that create – at minimum – the first draft for you.  There will be lots of losers, including a huge number of companies that create a first draft but fail in other ways to gain market share.
This is happening now and we are at the infancy stage.  ChatGPT and all the competitors that already exist plus the exponential explosion of new ones are category killers, productivity boosters and most importantly, democratizers and liberators for writing (among lots of other things).
How so?  Most writing is objectively poor, especially in the fundraising sector where we've scored hundreds of pieces of copy on Readability and Story and Overall Engagement (all of which correlate with response rate) and our sector average reads more like academic abstract than personal letter with story well told.
However, there are very gifted writers in our field.  I share an Agitator office with one of them.  If you're lucky enough to afford or get on the docket for a Roger Craver, Jerry Huntsinger, Tom Ahern or Kathy Swayze and maybe 1/2 a dozen other talents, then great.  But Lake Wobegon doesn't exist, our copywriting cadre is not all above average.
And with smart, thoughtful (and trial and error) prompting and examples (and fine tuning of models to make GPT proprietary for you) you can produce much better writing than what you have now.  And at low to no cost with almost no barrier to entry.  Democratization, at scale.
Grammarly was a bad bet.  Things move fast.  Catch the wave.
Kevin