Among the lessons I've learned over my 60 years in this trade is that whatever the new fundraising technology it produces the same types of reoccurring problems and battles.
Then after a suitable period of donor abuse, handwringing, name calling, litigation, legislative threats, and some governmental regulation things calm down and a sort of generally acceptable operational equilibrium or stasis sets in.
That occurred 40 years ago with political fundraising direct mail.  It's occurring again today with digital political fundraising. Let's begin first with direct mail,  then fast forward to digital.
Disruptive Fundraising Tech of the 1979s: Direct Mail
In the mid-1970s  the rising use of direct mail in politics represented the newest and very disruptive fundraising technology. No longer were candidates solely dependent on big donors and a financial spigot controlled by the political parties.  At last, thanks to Watergate reforms new campaign finance laws favored small gifts and placed limits on fat cat donors. Candidates  go do their own thing free of the shackles and control of the political parties.
New sub-specialties in  the direct mail industry sprung up—political direct mail firms, political copywriters, special list brokers.  Success followed success and although the $ weren't as high as today's figures (in those good old days an expensive Senate race could involve $5 million; today it's likely to run toward $100 million) but the independence and opportunity presented to all types of candidates was revolutionary.
As is always the case with new technologies and their accompanying disruptions new questions and new challenges arose, especially from the establishment.  What about mailing lists:  who controlled them, the consultants or campaigns?  What about privacy:  what did these candidates and their consultants do with my names…where did they get my name…should the government make the voter registration and the list of contributions their donors available for fundraising?…and on and on.
And what about the tactics of the consultants? Are they mailing too much?  Are their "spray and pray" tactics ruining it for non-political direct mailers?  Should "fear" of the opposition ( 'they'll kill Social Security'… 'they'll outlaw abortion again'…or 'they'll replace the teaching of evolution with creationism'.
Pretty soon, as so often happens Congress took to the soapbox.  40 years ago, instead of Facebook and Google it was political direct mail consultants like Richard Viguerie, on the Right and Roger Craver, on the Left called before Congressional committees to receive an ideological beating and berating.  Here's a Washington Post piece from those days.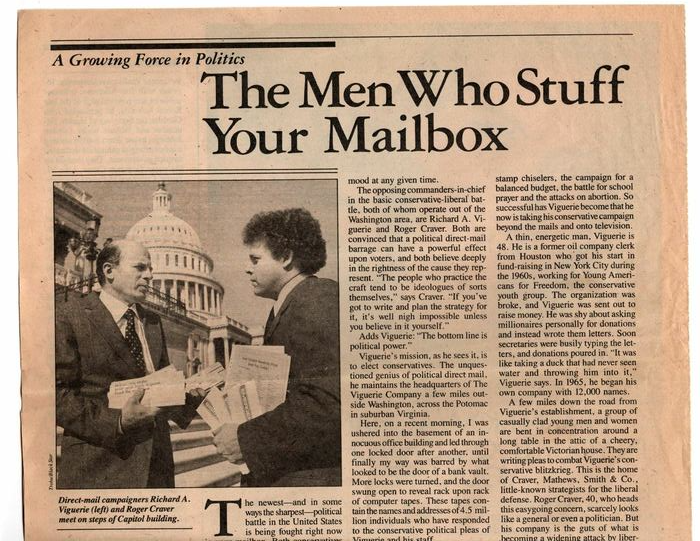 No regulatory legislation resulted.  The only move on Capitol Hill was to grant favored nonprofit postal status to political mailers.
It took nearly a decade to iron out most of the angst, anger and ethical questions,  but eventually competition from a rising number of new consulting firms, self-regulation within the industry and behavior in the donor community itself led to a plateau of normalcy.
[For those interested in some of the characters and some of the history involved in this founding era of direct mail you might take a look at the stories and research references in the Wikipedia pages of Richard Viguerie and Roger Craver]
Then Along Came Digital
 So,  once again,  many of the same problems, battles, questions and handwringing  are now in full bloom.
The latest blowup involves how digital messages for political fundraising are delivered – or not delivered.  Enter the spam filter.
Last year the Republican National Committee took Google to court accusing the tech giant of bias in Gmail's handing of email to bypass users' spam folders and claiming that the company unlawfully marked their campaign messages as spam.  Republicans argued that this behavior was what created a marked chasm in the amount of digital $ raised by Democrats as opposed the GOP.
Google responded by setting up a pilot program for campaigns and organizations looking to send political fundraising emails.  The Verified Sender Program (VSP) would allow responsible campaign that abide by certain standard to enroll in a program that would help them bypass Gmail's spam filters.
The VSP pilot ran from September 2022 until the end of January this year.  Although the chief complainer– the Republican National Committee—chose not to use it, over 100 major campaigns enrolled. Those who joined immediately saw a major boost in Gmail open rates, overall list growth, and the number of grassroots donations raised.
On January 31st the pilot ended and what some consultants are calling a 'fundraising apocalypse' set in.  Open rates, which under the program spiked to around 30%, fell in some cases to 1% or lower where Gmail recipients were concerned.  For those who already were practicing good delivery optimization habits the falloff was smaller or not noticeable at all.
In short, eliminating the spam filter for Gmail recipients (the preferred email client for the majority of Americans)  was the equivalent of Congress' granting nonprofit mailing privileges for politicans in the '70s.  Spray and Pray.  It's cheap.  Who  cares.
Well, for one, donors care.  As do the non-political nonprofits affected by the pigpen behavior of the tsunami-like sewer of political emails.  And, fortunately, so do many of the vendors in the trade who practice ethical acquisition and delivery practices.  
Eventually the delivery issues and all the issues surrounding digital political fundraising will be sorted out.  Not tomorrow nor  next year but over the next decade,  partly because of self-regulation, partly by emerging privacy regulation in the states, but mostly because campaigns with better practices and more substantive content will be rewarded by donors.
In the meantime, we'll be besieged by the whining of politicians claiming bias of one sort or other, greedy consultants whimpering over increasing exposure and limitations on how they acquire and use lists.
As that cacophony unfolds  there's no amount of preaching that will speed up needed change. In Grandma Craver's words: "Don't try to make a pig sing.  It wastes your time and annoys the pig."
Roger