Synonyms, right?  Not really.  Words matter.  Which is used more often to frame the request, donation or gift?
Pretty evenly split.  Among the top 100 U.S. Charities 83% use "gift" and 83% use "donation" followed by "support" and "contribution" at very distant 30% and 24%, respectively.
And yes, that all adds up to well north of 100% telling us groups aren't consistent, treating then as interchangeable synonyms and likely in a random way.
To wit, 70% of the top 100 charity websites use donation and gift interchangeably.
We know asking someone to become a donor instead of donating implies more permanence, christening them with a noun (versus transient verb) and "lite" Identity.
Gifts are associated with a social exchange between parties that know each other, often well.  My donation or contribution typically goes to someone I don't know well or at all.  If the asking did a good job it'll reduce the social distance by creating some shared values and goals between me and the beneficiary.
But does that get undermined by asking for a donation instead of a gift?
Yep.  But like most things involving humans it's different answers for different people and situations.
This experiment shows cause and effect.  One effect is the first two bars showing much higher response (9.7 vs. 7.5) when a national health charity asks for gifts instead of donations.
The 'why' part is demonstrated with the 2nd set of bars.  The Gift word reduces social distance but it's not the only way to do this.  Another option, sometimes, is reducing the physical distance, in this case between the donor and the beneficiary who was now going to be in the same state.
That shrinking of physical distance also shrunk social distance and the gift vs. donation difference goes away because the job is already done.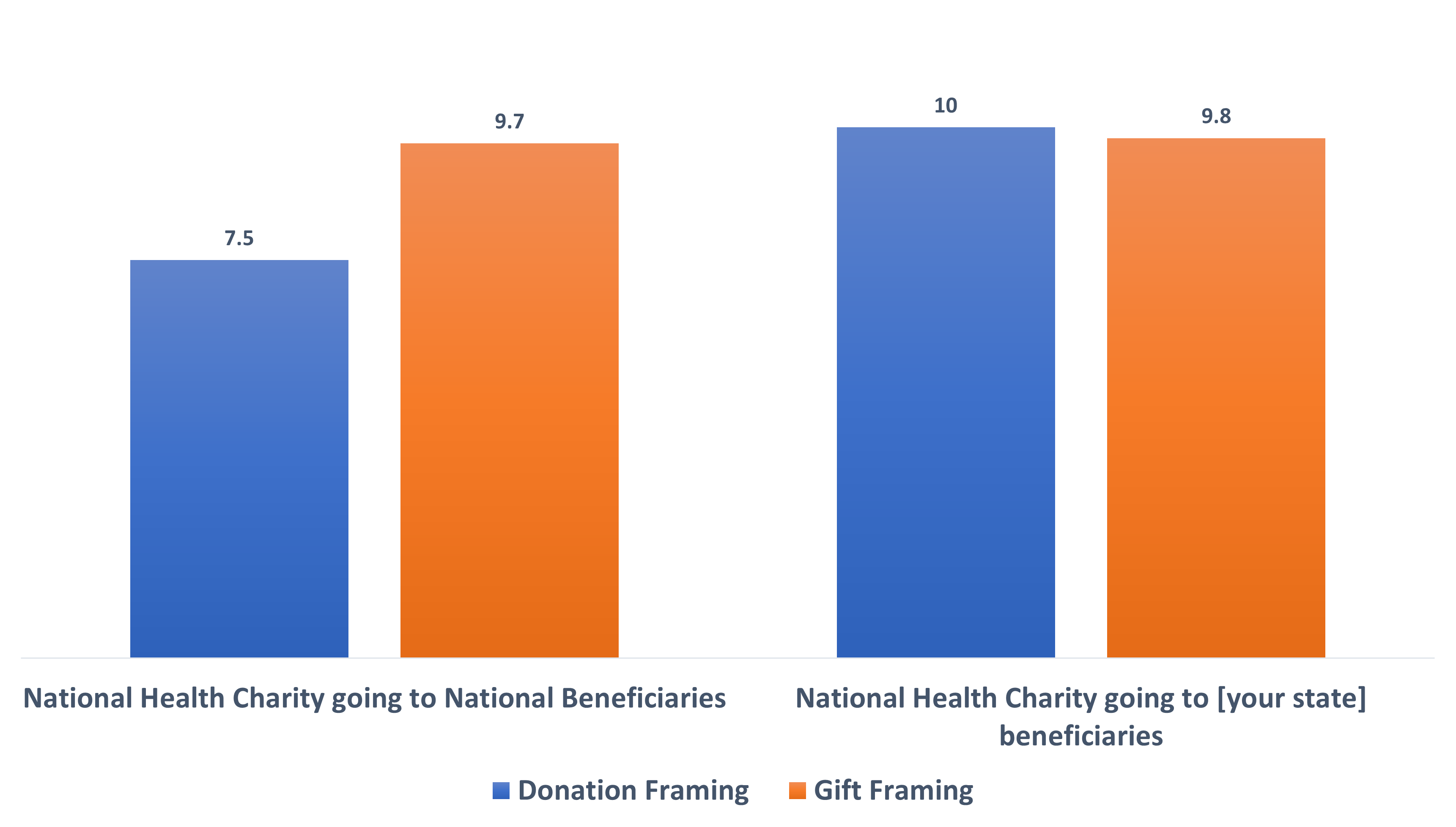 Context matters.  Who matters too.  People who are high in their need for social status aren't impacted by calling it a 'gift'.  Why?
Reducing social distance also reduces the social status.
Not all rich and professionally successful people have high need for status but the paint-by-numbers, make it simpler than possible, Persona PowerPoint slide will descriptively and correctly note that high need for status people skew rich and powerful.
Use "gift" across the board.  It doesn't suppress high status givers, nor does it hurt if you've found other ways to reduce social distance.
It's better or no worse.  Win-win.
Kevin