A week ago President Biden officially launched his 2024 re-election bid with a web video recapping a busy two years of action and threats, and an online fundraising blitz. The blastoff was intended to squelch speculation that Biden wouldn't run again,  and start the process of raising tons of money.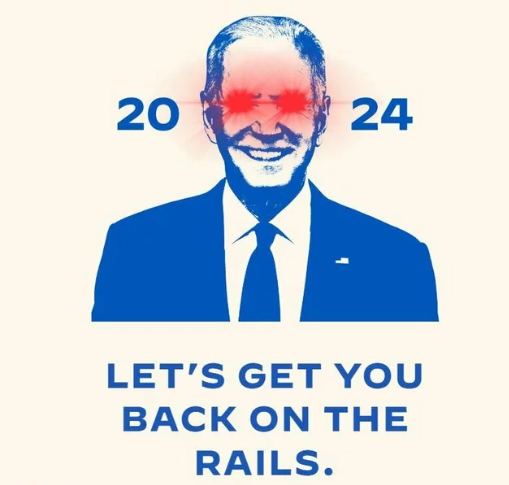 So how did it do?
 In the first 24 hours post-launch, the video racked up 11 million views across Twitter, Instagram, Facebook, and YouTube – a strong start according to those who follow such metrics.  Here's how the views were distributed by platform: Twitter-70.8%; Instagram=25.4%;YouTube 2.8%; Facebook-1%.
By way of comparison Nikki Haley's launch video earned around 3 million views, and Tim Scott's exploratory committee announcement landed just shy of 500,000. Donald Trump did not post a video on mainstream social media networks when he launched his campaign.
What about the money?
In this first week since the launch, the Biden Victory Fund spent $1.06 million on Facebook, Instagram and Google ads to recruit new small-dollar donors. That's far more than any Republican candidate or potential candidate has spent on digital ads this one week period.  (The Trump campaign has spent a bit under $600,000 so far in al of 2023.
For fundraisers the success of this type of launch campaign is typically judged by how much money comes in. As I write this post (5/2/23)the Biden campaign has yet to reveal how much they raised on last week's Launch Tuesday. That silence may mean, "not so great", or it could also mean that dollars from mega-donors were slow to arrive and the campaign is waiting to roll those mega gifts into the launch total.
From a digital viewpoint –small gift donors— Tim Tagaris (@ttagaris) founder of the digital firm Aisle 518,  using ActBlue and historic data estimates the digital take for the first day will be just shy of $4  million.  About the same as Biden's small gift raise on launch day in 2020.  (Readers into fundraising metrics and projection methods can see Tim's methodology on this spreadsheet he's shared.)
If you're into Biden vs. Trump fundraising stats…. Trump's first 24 hours following his indictment in Manhattan produced $4 million according to his campaign.  About the same as estimates for Biden's first 24 hours.
How did Republicans respond?
Busy raising money off the former president's indictment and attacking Florida Governor Ron DeSantis, the Trump campaign largely failed to respond to Biden's launch for a day and a half before posting a web video attack.
Over at the Republican National Committee, in what appears to be an attempt to score press attention points making a big deal out of an AI-generated video depicting a dystopian future if Biden is re-elected. responded to the President's launch with a video depicting a dystopianfuture if Biden wins re-election.
Give 'em points for thinking outside the box.  But knock off even more points for using fake footage rather than real world images.
Back to Biden Fundraising
Biden donors were recently told that cumulative efforts to re-elect the President will cost upwards of $2 billion dollars.
Kyle Tharp, in his FWIW (For What It's Worth ) newsletter  (a "must read" for digital fundraisers) succinctly summarizes what is likely to serve as the most effective strategy for Biden 2024:
"Nowadays, post-Citizens United and with the advent of new digital tools, like recurring donations, political campaigns are more heavily dependent on what you could consider the two ends of the barbell distribution: the smallest contributors, who cut endless two-figure checks after each viral debate moment or email blast, and the ultra deep-pocketed donors, who make $5 million or $15 million contributions to outside groups if one Hamptons meeting goes well. Perhaps the Biden team is also now wise to that impolitic reality: In 2024, the president doesn't have to worry much about his top 1,000 supporters. Better to focus on the top ten, and the bottom ten million. "[Agitator emphasis added]
Those of us who hoped the flood of campaign fundraising had ebbed for a few months are about to be disabused of that notion.  The water is rising.
Roger
P.S.  Those –particularly those of us who give to Democrats –and  being spammed by our own party and/or its grifters, must read Positively BEGGING You from Arvin Alaigh, appearing in The Baffler magazine. Email and other digital small gift fundraising are essential tools for creating an effective counter-weight to the massive amounts of mega-gift dark money.  But, some sleaze bag operators are destroying not only this vital marketplace, but in all likelihood fouling the waters for advocacy and other nonprofit organizations.   Read all about this pestilence.