Be Innovative And Traditional?
June 14, 2023     
Kevin Schulman, Founder, DonorVoice and DVCanvass
The post title reminds me of the spoof video making fun of management consultancies with the edict by the client to make 3 lines that are simultaneously parallel and perpendicular and the obsequious senior consultants promising it.
Being Innovative and Traditional in format, design and copy seems impossible. At least if we're limiting ourselves to one communication.  There is another option to make it possible and it doesn't involve a random nth 50/50 split between the two.
Any guesses?
What if you knew you had two audiences on your file and Audience One will be most responsive to this brief:
use words like achievement, determination, commitment
adopt a formal tone with CEO or leader as signer
Include efficiency ratings
convey information in logical sequence
use high quality paper stock and consistent, simple, color and design
Audience Two to this brief:
use words like imagine, discover, inspire, create
use complex speech like metaphors or analogies
ask provocative rhetorical questions
make it visually engaging with charts
use highly aesthetic photos showing people experiencing new things
use creative formats and color variety
If you send the communication for Audience One to Audience Two or vice versa, it will bomb.  And yet this happens every single time you send out an email, direct mail or run an ad.
Why?  Because Audience One and Two live on your file and both are sizeable.
Audience One is people high in trait Conscientiousness.  Audience Two is high in Openness.  They are very different people even if they look the exact same per RFM and demographics.   Here is the 'paint by numbers' one-pager for Conscientious people.  Page two has sample digital ads and longer copy for email and letter templates.
---
Want to learn how to find these people on your file and see examples?  Join us at our learning session, registration is free.
---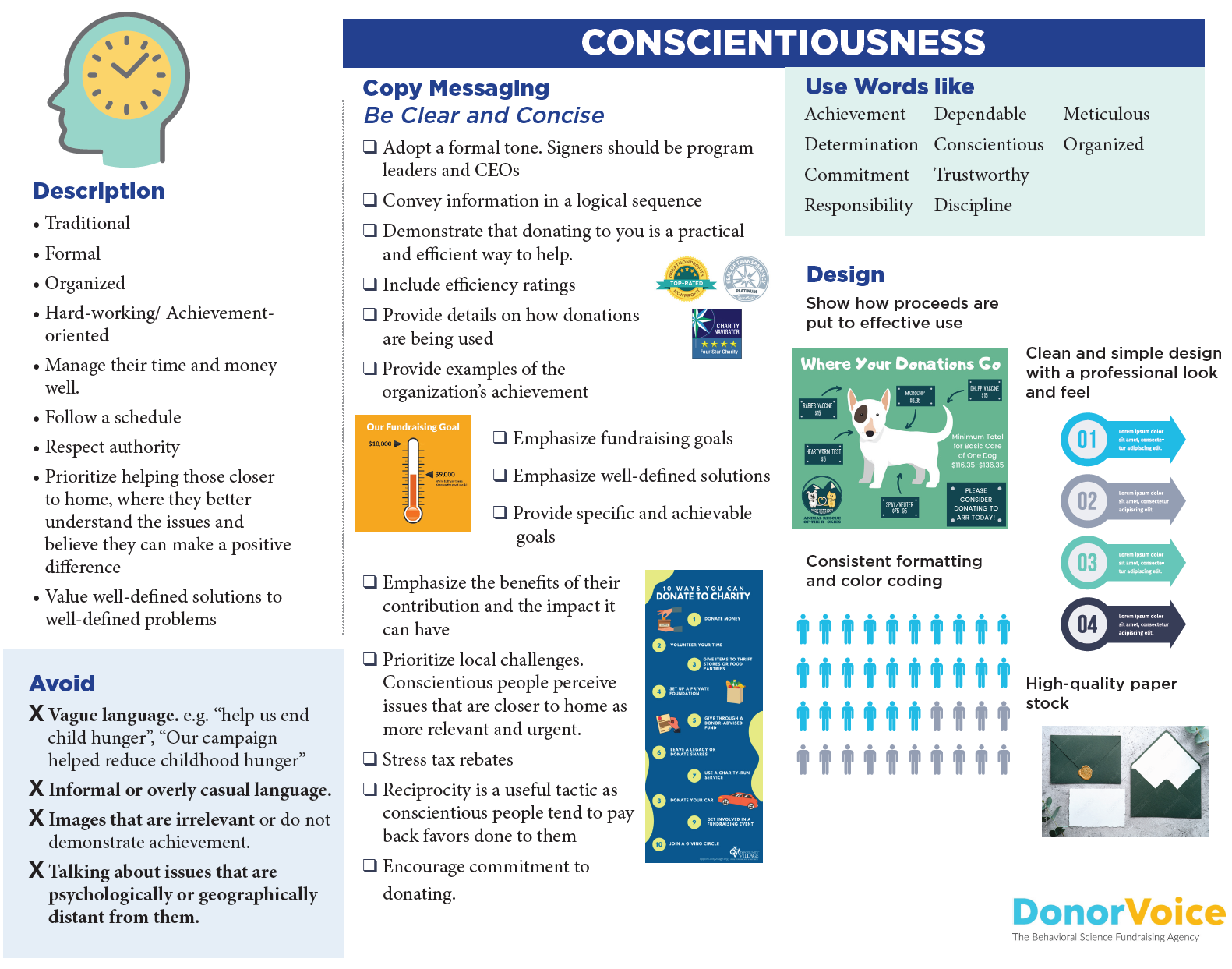 Kevin
P.S. DonorVoice is hiring, if you're high in Conscientiousness, Agreeableness and Openness and yearning for professional growth, take a peak here.