I want a story that speaks to me.  But who am I?  A bundle of complexity just like you and exactly not like you.
Personality Psychologists often talk about three layers of a person,
The foundational, rough sketch layer are our broad personality traits.  You're extroverted, I'm introverted.  You're agreeable, I'm not.   But there are lots of people just like me and you on this basis.  You can score yourself; others can score you.  We can score you using your 3rd party data footprint (learn more here).  These are the most basic, stable components of personality and they're relatively consistent throughout your life.
The next layer are your Identities, motives, goals, values, current concerns etc.  These are influenced by your rough sketch layer but also influenced by culture, situations and social roles.  This is what makes us unique.  Not all Extroverts behave the same as each other all the time.  In fact, the same extrovert doesn't either.  These parts of us are more flexible and changeable.
Life Stories: This is how we humans make sense of ourselves with our self-authored life stories.  If layers one and two are behind the scenes, this is us bringing those parts to life on center-stage.
The fundraising story that I will most appreciate is one that matches mine.   But, in mass market fundraising I don't know the reader's life story.  I've got to make a best guess using what I know about layers one and two.
For example, donors high in Conscientiousness (which I can reliably tag on your donor file) tend to have goals tied to power (e.g. status, money) and their life story often focuses on self-mastery, influencing others, attaining "victory".  I can tell a fundraising story about a beneficiary who gains mastery and some success through a job-training program as part of a homeless shelter's broader service offering.
Here's research from McAdams of Northwestern University, a personality researcher.  This table shows the correlation between what I'd call Life Story themes or styles and the Big Five – which should have been arranged to spell OCEAN but academics must like word jumbles.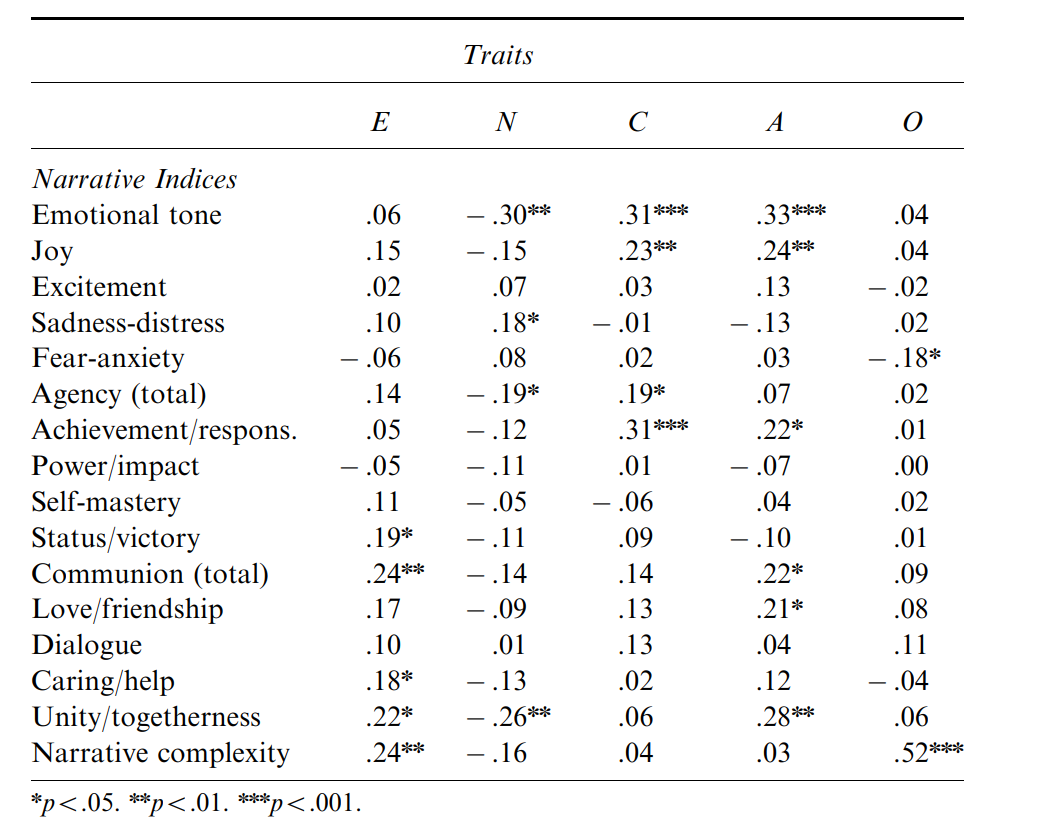 There is one really big, man bites dog finding on the last row, Narrative Complexity, and the really high correlation with those high in Openness (which, again, you can have tagged on your donor file).   Narrative complexity does not mean use big words, adjectives and the full exposition of your theory of change along with the kitchen-sink of programs with wonky titles.
A person with a narratively complex life story is one that contains sophisticated ideas and concepts, for example, the nature of love or human relationships and one that integrates diverse and sometimes conflicting perspectives, experiences, and values into a coherent and meaningful whole.
Why might people high in Openness have these type stories?  These folks are very intelligent, open to new experiences, life-long learners and motivated by abstract, complex topics.  Their life story matches their view on the world.
Here is a brief example to illustrate with a story of a veteran being helped by a foodbank.
John was a proud and decorated soldier struggling to make ends meet.  Despite his years of sacrifice and dedication to his country, he found it difficult to find employment that would provide for his family. He and his wife often went without meals so their children could eat, and he found himself slipping into depression and despair.
That's when John discovered the local food bank and to his surprise, a community of support and encouragement. He began to see the food bank not just as a place to get food, but as a symbol of hope and resilience.
This story will work but not for everyone.  In fact, if narrative complexity is a 1 to 3 point scale, most life stories are about a 1.3, which is low complexity.
Stories matter.  The reader matters.  Matching the two by understanding the layers of the human onion is the only way to foster connection and the ultimate end game, repeat giving.
Kevin