GPT? Yes. Chat-GPT? No.
June 30, 2023     
Kevin Schulman, Founder, DonorVoice and DVCanvass
The number of people professing to be expert in AI or machine learning (and not knowing the difference) is skyrocketing.  It's like the 19th century gold rush with con artists selling worthless mining technology.
I'm going to share our experience with GPT for copy and make recommendations.  I didn't stay in a Holiday Inn last night and I'm not claiming AI expertise.
Don't use Chat-GPT.  Chat is the recently released, simple UI, front-end for GPT, which is the model.  We've found Chat to be way too inefficient and ineffective for baking AI-supported copywriting into our process.
Do use GPT 4.0.  GPT 4.0 is an exponentially more sophisticated model than 3.5.  We've gotten dramatically better results using it.  GPT didn't start with Chat-GPT, it was commercially available almost five years ago.  The improvement over that period is even more staggering.  It will only continue.   This means the real recommendation is using the API to GPT so, like your Apple or Microsoft products, you can always be on the latest version.
Forget Prompt-Engineering.  Prompt-engineering is the bazillion LinkedIn posts you've likely seen telling you how to provide details to Chat-GPT.  The way you organize and structure your prompts can have a very big impact on the Chat-GPT output.  This creates variability and noise, which is the antithesis of a stable, repeatable copywriting process.
Use Fine Tuning.  If prompt-engineering is out, what's in?  Fine-tuning.  This can mean statistical, wonky tweaking to the GPT model, which is possible but has lots of money and data set constraints.  Fine-tuning is also qualitative.  To get reliable, repeatable copy that you deem good by whatever measuring stick, you must get beyond the internet, which is the only source for GPT.   You need it to reference your proprietary, standing instructions and examples.  These are source documents like brand standards, your copy strategies and examples of copy that you like.
Use Middleware.  I'm bastardizing the term a bit but middleware in my definition provides a mechanism to link the GPT API with your knowledge base of reference documents and examples.   These middleware options are no-code platforms, with some using workflows for different tasks.  There are dozens of these options that range from dirt cheap (e.g., $20 a month – e.g., copy.ai or jasper) to more flexible and fancier but still low-cost in grand scheme of things (e.g., $1k/month).
Here's a screenshot of the middleware we use, it's on the higher priced end but there are similar features in the $20-$100/month range.  The key point is you cannot get copy you deem good, done reliably and repeatedly using just GPT.  It memorized the internet and understands those words in incredibly powerful ways we can't comprehend.  But, that ain't enough.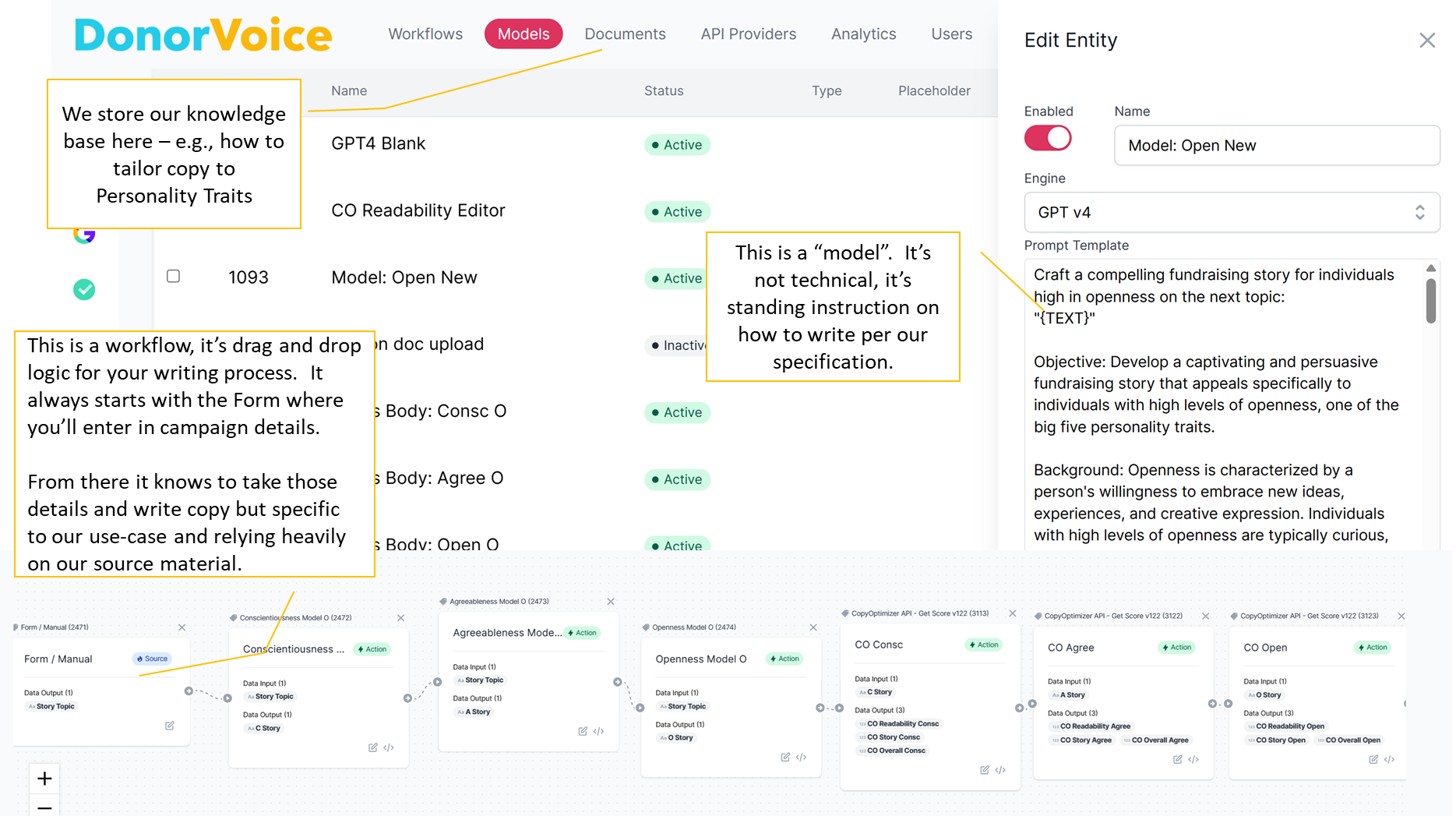 Kevin