Japanese Taxes, Premiums and Unintended Consequences
September 1, 2023     
Kevin Schulman, Founder, DonorVoice and DVCanvass
The Japanese can take free welding lessons near Mt. Fuji or test drive a Porsche or serve as mayor for a day.  The catch?  Give these locales some of your tax dollars.
Japan has cooked a system letting taxpayers redirect some of their local taxes to towns or cities where they don't live—and receive a gift or other token of gratitude in exchange.  What began as an idea to help rural places losing population has devolved into a gifting arms race with winners and losers.
Former Prime Minister Yoshihide Suga crafted the program and said he donates to a town where he grew up in a family of strawberry farmers—"without a thank-you gift in return," he added.
That quaint notion of intrinsically motivated, place-based Identity decisioning has given way to what a financial planner in Yokohama uses the program for, to stock her pantry with luxury items she wouldn't otherwise buy.  She said, "I don't usually choose to donate to somewhere because of a connection to the place," she said. "It's more because I look at the thank-you gift and think, 'I really want to eat this thing."
In researcher lingo the extrinsic rewards have crowded out pre-existing, intrinsic reasons for donating.  Sound familiar?  The common trope, which I've repeated, is that premiums increase response rates and so it's the Faustian bargain many are willing to make to win the battle if only to lose the LTV war.
But what if the premium doesn't even win the battle?  This is a public radio station that ran this direct mail test for it's member renewal.  They'd not used premiums in the renewal mailings prior but did routinely use premiums for acquisition efforts including over-the-air radiothons.
The premium was an insulated tumbler, and it was an opt-in (not out…) choice to be made on the reply form.  The "meals" condition let people opt-in to having a portion of their donation go to a local food bank.
Both external offers lost to the control, which relied entirely on intrinsic, internal reasons for supporting public media.   What happened?
The unrelated offers shifted mental attention and created a more calculative mindset, weighing costs and benefits.  Neither offer stacked up well on that score and giving went down.  What's worse, it went down the most among their most committed supporters.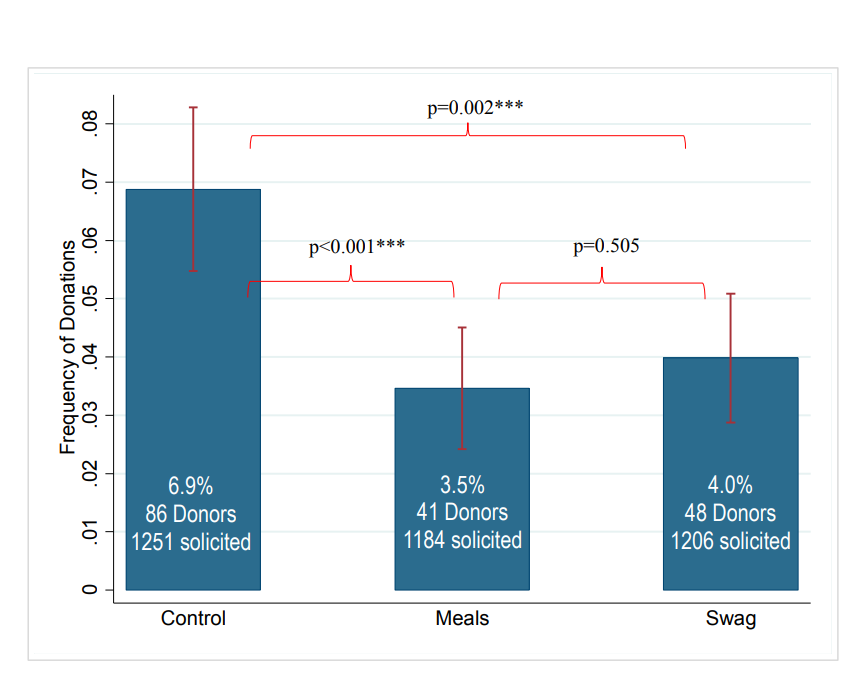 Don't offer the welding lessons unless you know they're aspiring welders.
Kevin