The Agitator spreads most of its digital ink covering the strategies, tactics, and trends in fundraising.   Among all these trees of technique it's easy to lose sight of the forest called mission.
     If you're not motivated, captured, and deeply committed to the mission of your cause or movement it's likely you're not the best fundraiser you could be.  After wandering among our herd of fundraisers all these years I don't care nearly as deeply about how much a fundraiser knows, compared to how much a fundraiser cares.
     I'm writing this as the U.S. celebrates National Indigenous Peoples Day.  A holiday meant to recognize the painful history Indigenous people have faced, to celebrate their communities. For many, a day of protest and resistance.
      As I thought about this post, I wondered what the U.S. Constitution says about Native Americans.  It mentions them just 3 times – all in the context of assuring the federal government will rule supreme. My brother Chip, spent a lot of his life working for Native American rights and their movement, I haven't.
      Still curious, I turned to the Constitution to check the word count on a movement I've devoted 56 years to –women's equality, reproductive rights, and the Equal Rights Amendment.
     It's probably no surprise to anyone that the Constitution, crafted by 55 white men in 1787 doesn't set out any fundamental law about pregnancy, uteruses, or fetuses.  However, what may shock or surprise some is there is no mention of women at all!
     Don't take my word that women are missing from the Constitution.  That's what the U.S. Supreme Court concluded in last year's Dobbs decision that reversed Roe v. Wade  and has subsequently led extremists to pass laws where women in about half the U.S may be breaking the law if they decide to end a pregnancy.
     This is not a post about reproductive rights.  However, it is a post about the need for long-term commitment and persistence when it comes to working as a fundraiser in movements.  And the women's rights movement which includes reproductive rights poignantly illustrates the need for both these traits.
     Nothing better chronicles the roller coaster nature of social change movements that the just-published 50 Years of Ms. :  The Best of the Pathfinding Magazine That Ignited a Revolution.
     Frankly, this book is both a remarkable history of past battles and a field guide for the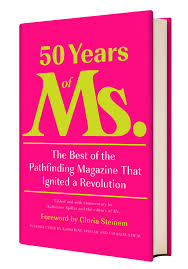 fight that must be waged going forward if we are going halt the erosion of hard-won victories, retore rights lost, and advance to the point where women's rights and equality –including their reproductive healthcare rights—at last win the permanent Constitutional protection through the Equal Rights Amendment.
     Anyone working or volunteering in a movement will quickly see from 50 Years of Ms. that significant change doesn't occur overnight or even after a few years.  What it shows is that  victory is possible after decades of relentless organizing and campaigning, but also those victories (as in Roe v. Wade ) can be lost and have to be regained.
     We in Fundraising Land owe special attention and devotion to the cause of women's equality .  Afterall:
Women make up 75% of the fundraising workforce in the U.S. and Canada
According to the AFP Salaries for professional fundraisers (2020 Average: $89,799) are 24% less than for their male peers. (The gap is slightly lower in Canada: 13%.
Even worse. The gap is even wider for Hispanic, Asian, or Blac, Indigenous and People of Color (BIPOC).  A gap nearing 34%.
Women represent 51% of wealth in America. And, according to Nonprofit PRO in high-net-worth household 84% of women are the primary decision-makers or joint-decision makers.
    It's now been 100 years since the ERA was first proposed by the women's rights movement and 50 years since it was introduced in Congress.  The ERA has now been ratified by the required 3/4ths of the States.   All that stands in the way of enshrining it as the 28th Amendment to the Constitution is passage of a Resolution in Congress.
     This victory is long overdue.
Roger