There was a day when the last phone call was made by rotary dial.  Similarly, the last buggy manufactured, and the last VCR tape inserted.
And someday is a day in the horizon when the last paper check will be written.  But we needn't wait for that day as it's already dawning and as European readers will cite, the sun (effectively) set on that day a long time ago.
The number of paper checks written in the US shrunk from 41.9 billion checks in 2000 to 16.6 billion in 2018.  If that pace only continues linearly, we'll have fewer than 10 billion checks written in 2030.  But the more realistic trendline is exponential decay.  And it's worth noting, this is Federal Reserve data, so it includes business check writing.
More to the point, it's the least used payment method by a wide margin.  That's right, cash is still used in a quarter of transactions.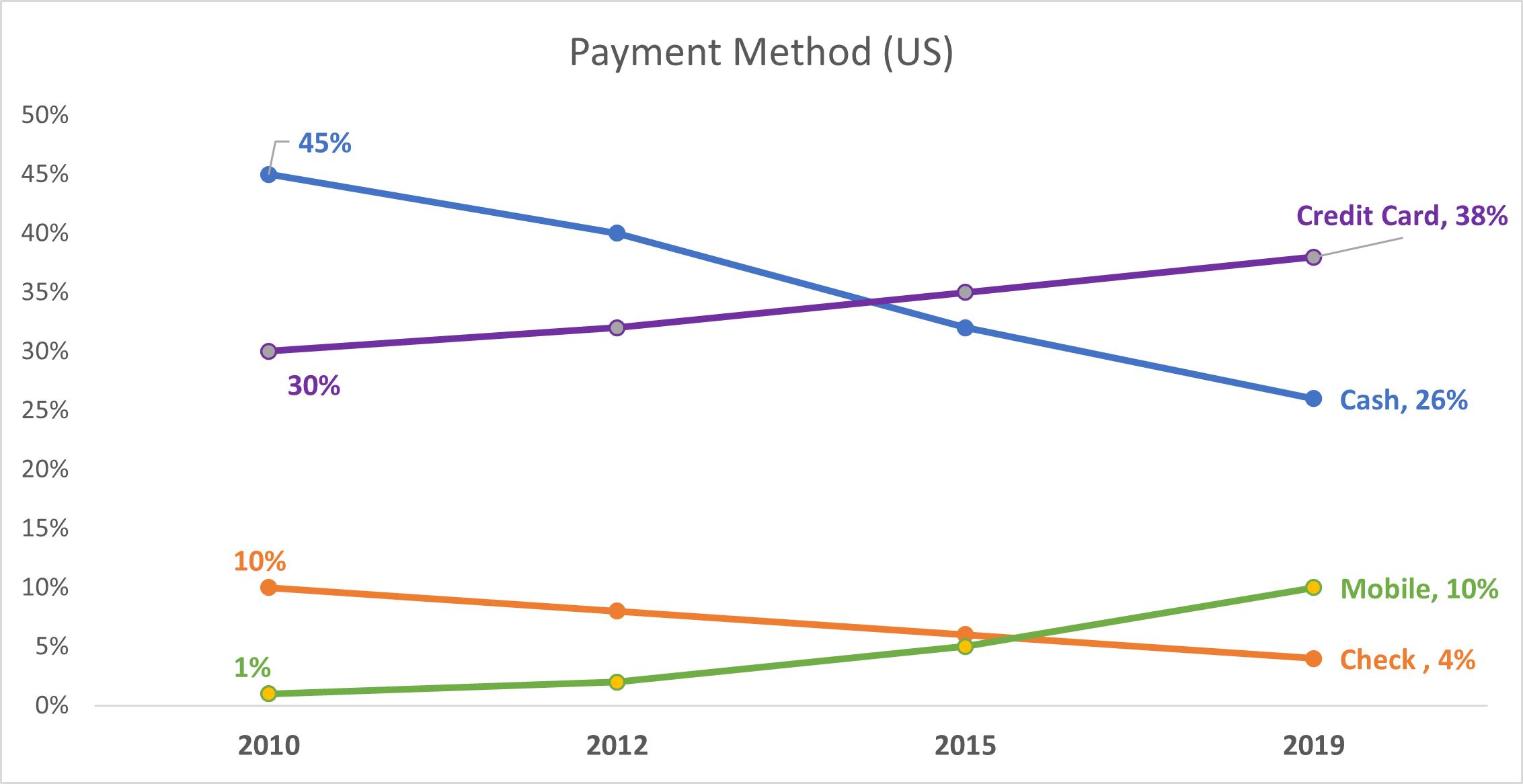 Mail as a communication, marketing and yes, direct raising of money channel isn't dead, but checks are dying fast and for large swaths of the public, they died a long time ago.  Why is our direct mail activation method stuck in a decades ago era?
When was the last time you saw an order form in a commercial mailer catalog?  Or any commercial mailing for that matter?  It's very rare.
What if "Make your tax-deductible check payable to…." is actually suppressing results?
Charity direct mail was, is and always will be more about indirect than direct.  How so?
There are two indirect benefits:
Those digital and white mail payments that magically flow in that you occasionally match back and prove were triggered/inspired by the mailing. This is the tinier of the two indirect effects.
Brand impression.   This is measurable with experiments but almost always goes unmeasured and yet it's, by far, the biggest effect.  It cuts both ways too…
But what about the ever-shrinking number of check writers and how to reimagine the activation for the "direct" part of direct mail.   Yes, everyone is slapping a QR code on the mailing but seeing low activation, ditto for custom URLs and the longer-lived fantasy that some meaningful numbers of people are going to handwrite their credit card number on a ridiculously tiny piece of paper.
But all those attempts are ancillary and tertiary to the main event, one that hasn't changed in decades.  The tiny reply form and return envelope.
What about, at least as a mental exercise, a test where you didn't promote checks – no reply form, no return envelope.   Instead, it's an activation insert.
SMS short code
Venmo handle
QR code that calls out digital wallet & CC payment options available by scanning
Phone number
Clever/humorous language about checks
Explanatory text for what the hell each method is and what to expect.  I've got news for you, there are plenty of people who either don't know what to do or expect when staring at your ink blot QR code.  Even if they used it at a restaurant one time…
Why are we so intent on prioritizing, to the extreme, the least popular payment method that is only becoming less so?
Or how about direct mail as lead-gen?  Financial services firms do this, and their response rate is so tiny you need an abacus to count the number of 0's to the right of the decimal before hitting a non-zero.  And to say nothing of the brand-building, marketing direct mail touchpoint with no activation.
These recommended changes are 100% tactical, 0% strategy but still worth doing as there's first-mover advantage.   There is short term upside for doing something different to activate the large number of people receiving your mail who will never write a check and who might be inclined to give "indirectly" but never get around to it – even with you chasing them in digital land.
That first-mover advantage will fade away as copycatting proliferates and we drive new net to zero but that might take a while, maybe even as long as it's taking for the US Mint to stop producing pennies…yes, we still do.
Kevin